Monday, December 19, 2011 at 04:09PM
This Friday, December 23, will be our shop's last day open during 2011. We're going to end the year with two days of Festivus celebrations and we'll raise money for one of our favorite local organizations, New York Cares. All donations and proceeds raised by the sale of our Festivus Miracle Cone (see below) Thursday and Friday of this week (12/22 and 12/23) will benefit New York Cares winter programming including their Winter Wishes toy drive and 23rd annual Coat Drive.
For the two days we are introducing our Festivus Miracle Cone. Don't get too crazy now, it's really just vanilla ice cream dyed green and covered with red sprinkles. After all, Frank Constanza would certainly find rainbow sprinkles "distracting," so we're simplifying things in his honor. All proceeds from the sale of the Festivus Miracle Cone over both days will go to New York Cares.
In addition, we will have a tip jar/donation pot, so bring your spare change by and dump it with us. We'll gladly count it up - along with all tips collected - and write a check to New York Cares for the total. (We understand that many of you might be disappointed that we're not donating to George Constanza's charity-of-choice, The Human Fund. Sorry.)
I got a lot of problems with you people!
The Airing of Grievances should be an enormous part of any Festivus celebration. The BGICTV webcam will be up and running Friday afternoon and evening. Everyone is welcome in front of our webcam. Let you friends and family know, via www.biggayicecream.com/bgictv, how they disappointed you during 2011. We have invited some peculiar people to air their grievances on our cam, so watch from home. It could be quite disturbing.
If you'd rather not air your dirty laundry for the masses, you may also elect to show yourself off with some Feats of Strength. Please don't break anything in the shop during the process.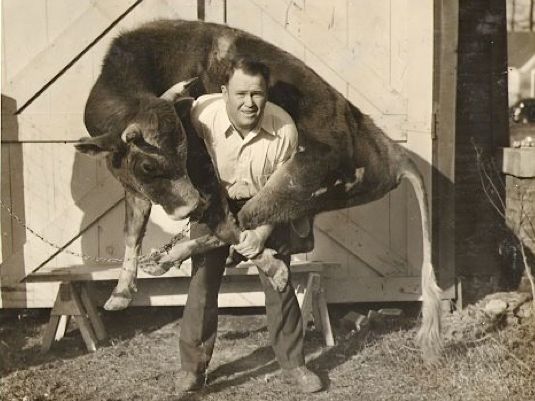 Instead of wrestling with the head-of-household, here's a suggested Feat of Strength.
We look forward to lots of Festivus fun as well as your generosity as we raise money for New York Cares and the important things they do here in New York City. See you soon!
Doug Quint
|
2 Comments
| |